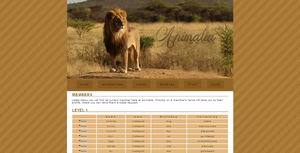 Animalia is an Animals TCG created by
Guinevere
. The website went on hiatus late 2013 and was adopted by
Jenny
.
Site Information
Owner: Jenny
Category: Animals
Lifetime: 2013
Prejoin: April 1, 2013
Grand Opening: April 8, 2013
Staff
Current
Former
Cards
Normal Decks
Normal decks have 20 cards and are worth 1. They are divided by different classifications of animals.
Special Decks
Special decks have 10 cards and are worth 2. Featured are baby animals, member created themed decks and website related cards.
Member Cards
Member cards are worth 0 and may be traded freely between members. For every 15 member cards collected a player may claim a mini mastery.
Leveling
Levels are based on card worth with 15 levels total.
Level 1: 001-200
Level 2: 201-400
Level 3: 401-600
Level 4: 601-800
Level 5: 801-1000
Level 6: 1001-1300
Level 7: 1301-1600
Level 8: 1601-2000
Level 9: 2001-2500
Level 10: 2501-3000
Level 11: 3001-3500
Level 12: 3501-4000
Level 13: 4001-4500
Level 14: 4501-5000
Level 15: 5001-5500
Mastering Decks
When a player has mastered all cards in a deck they attain the master badge which is displayed on their profile. Mastered cards can not be traded off.
Currency
There are two types of currency at Animalia: Honey and Dragonfly Jars. Honey can be exchanged for booster packs, while dragonfly jars can be traded in for choice cards.
Layout Gallery
Community content is available under
CC-BY-SA
unless otherwise noted.