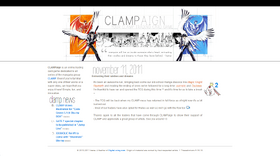 CLAMPaign is a CLAMP TCG ran by Icera.
It initially opened in 2009 before it closed shortly afterwards. Icera decided to reopen it in 2010. It ran until November 2011 and was closed due to inactivity.
Site Information
[
]
Owner: Icera
Category: CLAMP, Anime, Manga
Lifetime: 2009, 2010 - 2011
Cards
[
]
Although the 2009 and 2010 versions of CLAMPaign has the same template, many of the cards themselves were remade in 2010.
Normal Decks
[
]
Many characters had two different decks representing them: one featuring their anime version and one with their B/W manga version.
Special Decks
[
]
Member Cards
[
]
Old Member Card
[
]
Leveling
[
]
Mastering Decks
[
]
When a player has collected all cards in a deck, they master it. Mastered cards cannot be traded off.
Currency
[
]
Clow Cards
[
]
Layout Gallery
[
]