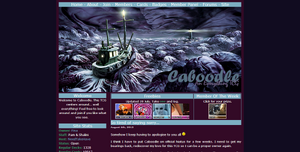 Caboodle
is an Everything TCG.
It went on hiatus on August 2013 and never reopened. It officially closed by December.
Site Information
Edit
Normal cards are worth 1 and contain 15 cards per deck. As the subject of this TCG is everything, there are numerous kinds of decks on different subjects, as well as puzzle decks.
Special Cards
Edit
Certain types of cards are worth 2, such as the members' favorite decks, the event decks and the retired holiday puzzle decks.
Member Cards
Edit
Member cards are worth 0. It is possible to master member cards.
Leveling is by card worth.
Level 21: 2001-2200
Level 22: 2201-2400
Level 30: 3801-4000
Level 31: 4001-4250
Level 42: 6751-7000
Level 43: 7001-7300
Level 50: 9101-9400
Level 51: 9401-9700
Level 54: 10401-10800
Level 55: 10801-11200
Level 56: 11201-11600
Mastering Decks
Edit
Layout Gallery
Edit
Community content is available under
CC-BY-SA
unless otherwise noted.