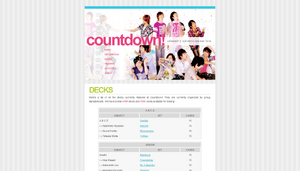 Countdown is a Johnny's Entertainment TCG. It was originally owned by Akuma and Meiko stepped up to take it over.
The TCG left for a hiatus and never returned.
Site Information

Edit
Background
Edit
Countdown opened on July 30th 2006 by Akuma. The site revolved around the talent agency Johnny's Entertainment. At the time it was a ground breaking TCG, because it opened up TCGs to a whole new fanbase. Many JE fans from Livejournal saw posts about Countdown and joined the site. Since so many new people learned about TCG it spawned many other TCGs based off of Asian Male Talents such as Heartchu, All or Nothing, and more.
When the site started it used the more common vertical style cards. It also had coupons as it's currency, which only consisted of three types of coupons. The site moved several times, but on August 1st, 2009 it moved to shinkirou.net, its current host. During this move, Aku did a revamp of the site. She re-did the cards making them horizonal. She also changed the currency to one similar to Genki Beam. Instead of it being of individual members, she made coupon featuring musical groups featured in Johnny's Entertainment. Those coupons could be traded in for cards that were featuring group on the coupon.
By December 21, 2009 Aku decided it has been too long. She was much too busy to continue running Countdown. She posted about it and offered the site up to anyone who wanted to run it. On January 13, 2010 a public announcement was made that Arimi would run the site. She ran the site until that summer, and the current owner Meiko stepped up and is currently running it.
Cards featured individual artists, groups, pairs and special decks. Special decks are site related or bithday.
Special Cards
Edit
Old Template
Edit
Member Cards
Edit
Levels are based on card count and there are 8 levels total. After reaching level Debut members would receive a bi-weekly salary called a pay check.
Audition: 6 - 50
Junior: 51 - 100
Shokura MC: 101 - 200
Debut: 201 - 300
Chart Topper: 301 - 400
TV Host: 401 - 500
Drama Star: 501 - 600
Super Idol: 601 +
Mastering Decks
Edit
When all the cards in a deck are collected, you receive a master badge. These cards cannot be traded out.
Countdown's currency is tickets, each one featuring JE groups from the 1960's to now! You earn them in games and activities during the TCG, and are able to trade them in at the JE Shop. They can be mixed and matched in various ways to earn you some nice rewards!
4 MATCH: 4 matching tickets will earn you 2 random cards from any decks featuring the group. (In this case, you'd get 2 random cards from any decks featuring a SMAP member.) 
8 MATCH: 8 matching tickets will earn you 1 choice card from any deck featuring the group + 2 random cards. (In this case, you'd get 1 choice card from any decks featuring a member of Tackey & Tsubasa, plus 2 random cards.)
4 DEBUT/4 JUNIOR/4 UNIT: If you pair up four tickets from a certain level (debut, juniors, unit groups), you will get 2 random cards from decks in that group level. 
Old Currency
Edit
Community content is available under
CC-BY-SA
unless otherwise noted.