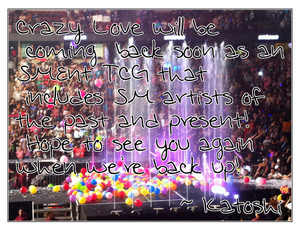 Crazy Love is a Korean entertainment TCG owned by Katoshi. It was originally a Dong Bang Shin Ki and So Nyuh Shi Dae (Girls' Generation) TCG.
The TCG left for a revamp and never returned.
Site Information
Edit
Decks featured music videos, artists, puzzles, commercials and member oriented music video shots.
Special Decks
Edit
Special decks are decks related to member achievements and are animated.
Member Cards
Edit
Member cards are worth 0.
Levels are determined by card worth.
Mastering Decks
Edit
When all the cards in a deck are collected, the deck is mastered. Mastered decks may not be traded off.
Currency at Crazy Love was chips. Each chip featured different artists and could be traded between members. Certain amounts of chips could be exchanged for cards.
Layout Gallery
Edit
Community content is available under
CC-BY-SA
unless otherwise noted.