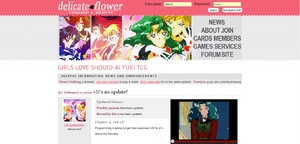 Delicate Flower
is a Shoujo-Ai/Yuri
TCG
by
VBunny
.
It includes some unique features and advanced scripting that are new to the world of online TCGs. For example, there is an automated Tea Shop, which is a game in which players buy baked goods and sell them for cards. When regular games are played, the currency in which you buy the tea shop items are automatically logged - there is no manual tracking. Additionally, regular games can only be played once. The site also features a permanent member log.
Site Information
Edit
One of the unique features on Delicate Flower is the fact that decks are split in half. The first 15 cards are normal cards, while the other 15 cards are a puzzle. All 30 cards must be collected in order to master a deck.
Daisy: 0 - 150
Gardenia: 151 - 300
Lilac: 301 - 750
Orchid: 751 - 1300
Tulip: 1301 - 2000
Rose: 2001 - 3000
Lily: 3001+
Mastering Decks
Edit
Currency Gallery
Edit
Layout Gallery
Edit
Community content is available under
CC-BY-SA
unless otherwise noted.