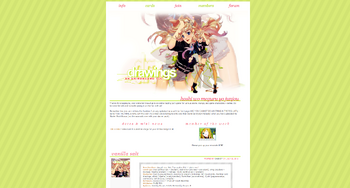 Drawings
is a TCG dedicated to anime, manga and video games.
The site went inactive during Summer of 2012 and was never updated again.
Site Information
Edit
Drawings has two kinds of decks: Special and Regular. 
Regular Decks
Edit
Regular decks are worth 1 and feature 30 cards in each deck. There are two types of regular decks: characters and series decks. Both types have a puzzle in the center of the deck as shown below.
Special Decks
Edit
Special decks are worth 2 and feature 15 cards in each deck. They feature themes and seiyuu; they do not have a puzzle in them.
Event Cards
Edit
Event cards commemorate milestones on the TCG. They are worth 0 and for every 3 earned you were rewarded.
Member Cards
Edit
Drawings featured member cards and member decks. You received your member card and #01 deck card when you joined.
Member Cards
Edit
Member cards were called Drawings and worth 0.
Member Decks
Edit
Member decks are worth 2 and tasks must be completed to unlock each card. There are 15 cards in a deck and you had your own master badge.
Levels are based on card worth. Levels are named after various positions in artistry.
Enthusiast: 000 - 200
Student: 201 - 400
Trainee: 401 - 600
Assistant: 601 - 800
Illustrator: 801 - 1000
Professional: 1001+
Mastering Decks
Edit
When a player has gathered all of the cards in the deck they master it. Mastered decks cannot be traded off.
Drawings used hearts and coupons as its currency. Each heart represents a level in currency with bronze being the lowest, then silver and finally gold. 
Heart Exchange
Edit
Different combinations of hearts would unlock different packs of cards. The packs ranged from low price (bronze) to high price (gold.)
Random Pack A - 3 random Cards = 3 bronze hearts
Random Pack B - 7 random Cards = 5 bronze hearts
Choice Pack A - 1 choice regular Card = 2 silver hearts
Choice Pack B - 3 choice regular Cards = 5 silver hearts
Choice Pack C - 1 choice special/member Card = 1 gold heart
Choice Pack D - 3 choice special/member Cards = 2 gold hearts + 1 silver heart
Surprise Pack A - 1 random pack = 8 bronze hearts
Surprise Pack B - 3 random packs = 1 silver heart + 1 bronze heart
Custom Master Pack - A custom made master badge = 1 gold heart
Re-Do Pack - Member card redo = 1 gold heart + 2 bronze hearts
Trade Boards
Edit
Players used trade boards to keep track of their trades. Once they were filled up they would turn them in for a reward. They are essentially stampcards.
Layout Gallery
Edit
Community content is available under
CC-BY-SA
unless otherwise noted.