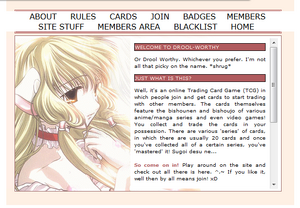 Drool-Worthy
is an anime and manga TCG, with one Final Fantasy deck. It is created by
Danika Yoru
.
Site Information
Edit
Normal decks feature various anime and manga series, including one Final Fantasy deck.
Special Decks
Edit
Special cards were given out for participating in various games on the site.
Levels are based on card worth.
Level 1: 0-20
Level 2: 21-40
Level 3: 41-60
Level 4: 61-80
Level 5: 81-100
Master: 101+
Community content is available under
CC-BY-SA
unless otherwise noted.