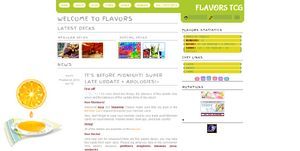 Flavors
is a Food TCG by
tequila
.
Site Information
Edit
Owner: tequila
Category: Food
Lifetime: 2013
Prejoin: May 21, 2013
Last Update: June 12, 2013
There are two deck types on Flavors: Normal deck and Special decks.
Normal Decks
Edit
Normal Decks have 15 cards and are worth 1. Cards feature cards from various food groups.
Special Decks
Edit
Special Decks have 10 cards and are worth 2. Cards feature food themes, borders are more colorful and include a shooting star marshmallow icon on each card.
Member Cards
Edit
Levels are based on card value, or "points".
Level 01: 001 to 100 Points
Level 02: 101 to 200 Points
Level 03 201 to 300 Points
Level 04: 301 to 400 Points
Level 05: 401 to 500 Points
Level 06: 501 to 600 Points
Level 07: 601 to 700 Points
Level 08: 701 to 800 Points
Level 09: 801 to 900 Points
Level 10: 901 to 1000 Points
Mastering Decks
Edit
When a player has collected all cards in a deck they master it. Mastered cards can not be traded off.
Flavors uses two types of currency: Lucky Marshmallows and Coupons. Lucky Marshmallows each have their own point value and can be used at the Cafeteria to purchase card packs. Coupons may be traded in for choice cards.
Layout Gallery
Edit
Community content is available under
CC-BY-SA
unless otherwise noted.