Gekko Yume
is a fully-automated German-language Trading Card Game (TCG) that covers card sets of every category.
Since Gekko Yume is based on PHP, members do not need a own homepage to display their cards. Every member has their own profile on the main site.
Special features the TCG holds, are:
Many individual level badges across many categories
Choose between 6 exclusively created layouts
Very individual card design with a thin frame that does not hide much of the card's picture
Special events around Easter, Christmas, summer, our mascot's birthday, etc.
Every month, new card sets and technical features are implemented
And many more!
Owner: Real-Nicole
Further Team Nembers: Tanja, Cecilia, Flicksi, Mira, Dragosius, Rupert-Girl, Ichigocake
Game Helper: chris bose, Renesmee, Zehensocke, Lythis, Blessi, Eagle, Kyoko
Card Maker: everyone is allowed to make sets at Gekko Yume!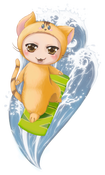 Kimiko (often called Kimi-chan) is the mascot of Gekko Yume. She loves to bustle around the page and even has her own account! Yep, you can trade cards with her if you want to!
A few facts about Kimi-chan:
Birthday: August 20, 2005
Hobbies: sleeping, singing, rolling around
Favorite food: Chocolate and Tiramisu
Card Sets
Edit
Card Categories
Edit
There are 26 categories. Most of them are splitted into sub-categories.
Types of Card Sets
Edit
There are 4 different types of card sets on Gekko Yume:
Normal sets: 12 individual cards + mastercard
Puzzle sets: 12 cards that assemble to a single picture + mastercard
Special sets: 15 individual cards + mastercard
Precious sets: 25 individual cards + mastercard
Community content is available under
CC-BY-SA
unless otherwise noted.