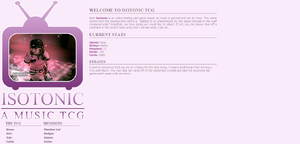 Isotonic is Music TCG by
Ayay
. While Isotonic started out with just Japanese music, it later expanded to include music from various countries.
Site Information
Edit
Owner: Ayay
Category: Music
Lifetime: 2011 - 2012
Member Cards
Edit
Member cards are worth 0 and may be traded freely between members. For every 15 member cards collected a player may claim a mini mastery.
Levels are based on card worth.
Mastering Decks
Edit
When a player has mastered all 15 cards in a deck they master it. Mastered cards can not be traded off.
Isotonic uses coupons which can be exchanged for choice cards.
Layout Gallery
Edit
Community content is available under
CC-BY-SA
unless otherwise noted.