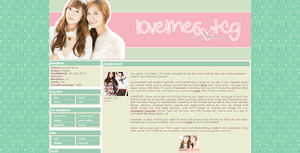 Lovelines is a Korean Entertainment by
Rinoa
and
lou
. The website opened for prejoin July 20, 2013.
Site Information
Staff
Cards
Member Cards
Member cards are worth 0 and may be traded freely between members.
Leveling
Levels are based on how many decks a player has mastered.
Level 1: 001-250
Level 2: 251-500
Level 3: 501-750
Level 4: 751-1000
Level 5: 1001-1250
Level 6: 1251-1500
Level 7: 1501-1750
Level 8: 1751-2000
Level 9: 2001-2250
Level 10: 2251-2500
Mastering Decks
When a player has mastered all 10 cards in a deck they attain the master card which is displayed on their profile. Mastered cards can not be traded off.
Currency
Lovelines' currency are coins which can be exchanged for various items and cards at the Bottle Shop.
Bottles
Bottles give the player special abilities and can be purchased using coins at the bottle shop.
Layout Gallery
Community content is available under
CC-BY-SA
unless otherwise noted.