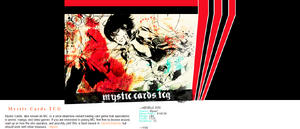 Mystic Cards
is an Anime and Manga TCG created by
Mystic
. It was first opened in 2003, and reopened on August 8, 2009.
Site Information
Edit
Third 2009 Template
Edit
Second 2009 Template
Edit
2009 Template
Edit
Original Template
Edit
Leveling is based on card worth.
Commoner: pending members
Summoner: 0-25
High Summoner: 26-50
Spirit: 51-80
Angel: 81-110
Guardian Angel: 111-150
Arc Angel: 151-200
Saint: 201-300
Entity: 300-500
Universal Deity: 501-1000
Mystic: 1001+
Mastering Decks
Edit
When a player has mastered all 20 cards in a deck, they obtain a mystical illusion card instead of a mastery badge. Mastered cards cannot be traded off.
Layout Gallery
Edit
Community content is available under
CC-BY-SA
unless otherwise noted.