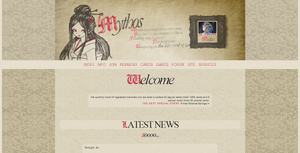 Mythos is a Mythology TCG by
Niina
.
Site Information
Edit
Owner: Niina
Category: Mythology
Lifetime: 2011
Prejoin: September 30, 2011
There are two card types on Mythos: Normal and Special decks.
Normal Decks
Edit
Normal decks have 10 cards and are worth 1.
Special Decks
Edit
Special decks have 10 cards and are worth 2. They feature prominent features in culture and religion.
Member Cards
Edit
Member cards are worth 0 and may be traded freely between members.
Levels are based on how many decks a player has mastered.
Level 1: 001-250
Level 2: 251-500
Level 3: 501-900
Level 4: 901-1400
Level 5: 1401-1900
Level 6: 1901-2700
Level 7: 2701-3500
Mastering Decks
Edit
When a player has collected all cards in a deck they receive the master badge. Mastered cards can not be traded away.
Layout Gallery
Edit
Community content is available under
CC-BY-SA
unless otherwise noted.