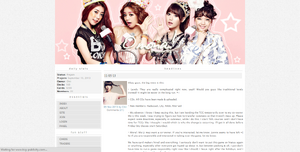 Omona!
is a Korean Entertainment TCG created by
Chii
. The TCG opened for prejoin on February 17, 2013.
Junnie
took over as temporary owner on October 7, 2013.
As of June 2014, the site has not been updated since November 5, 2013.
Site InformationEdit
All decks are worth 1. Groups, solists, music videos, photoshoots, actors and episodes have 20 cards per deck. Dramas have 15 cards per deck. Editorials and endorsements have 10 cards per deck.
Old TemplateEdit
Member CardsEdit
Member cards are worth 0 and may be traded freely between members. For every 15 member cards collected a player may claim a mini mastery.
Old TemplateEdit
Mastering DecksEdit
When a player has collected all cards in a deck, they obtain the mastery badge. Mastered cards cannot be traded off.
Platinum RecordsEdit
Omona has a unique leveling system that involves players choosing between 3 careers: modelling (easy), acting (medium), and singing (hard).
Layout GalleryEdit