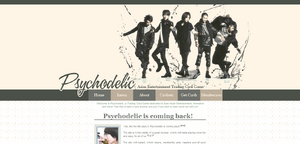 PSYchodelic
is a German-language Asian Entertainment TCG by
Saori
and
Papier
. PSYchodelic was eventually translated to English to appeal to more than just the German Community. The TCG closed its doors January 2010.
Site Information
Edit
Category: Asian Entertainment
Lifetime: 2007 - 2010, 2012
Closed: January 2010
Background
Edit
The idea for the name PSYchodelic came from the song "Psychedelic Lover" by Japanese rock band, Pierrot.
At the end of 2007 PSYchodelic moved to a new host to become Ad Free. The TCG had a good run from then until January 2010 when the site went on hiatus.
On May 1, 2012 an update was posted saying that PSYchodelic was coming back with a new co-owner, Papier. There have been no further updates.
Normal Decks
Edit
Normal decks are worth 1 and have 12 cards.
Special Decks
Edit
Special decks are worth 2 and have 6 cards. Special decks include layout cards and one 30 card photobook deck.
Levels are based on card worth with 10 levels total.
Halla: 005-034
Sri Pada: 035-069
Doi Inthanon: 070-104
Tambora: 105-139
Mayon: 140-174
Merapi: 175-209
Apo: 210-244
Fansipan: 245-279
Hehuan: 280-314
Fuji: 315-349
Jade: 350-399
Kinabalu: 400-449
Hkakabo Razi: 450-499
Kailas: 500-549
Kongur: 550-599
Himalchuli: 600-699
Annapurna: 700-799
Makalu: 800-899
Lhotse: 900-999
Everest: 1000 +
Mastering Decks
Edit
When a player has collected all 12 cards in a deck, they obtain the mastery badge. Mastered cards cannot be traded off.
Layout Gallery
Edit
Community content is available under
CC-BY-SA
unless otherwise noted.