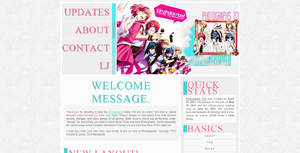 Photographs is a Livejournal-based Anime, Manga and Video Game TCG by Joyce.
Owner: Joyce
Category: Anime, Manga, Video Games
Lifetime: 2011-2012
Prejoin: May 19, 2011
Grand Opening: June 3, 2011
Closed: August 15, 2012
There are three types of decks on Photographs: Characters, Special and Puzzles. All decks have 20 cards and are worth 1.
Character decks feature characters from various series.
Special decks feature a variety of themed from groups of characters, seiyuu, music videos or themed.
Puzzle decks are feature various promotional artwork.
Commemorative Photos, or Event Cards, are given out for a limit time during various events on the website.
Member cards are worth 0 and may be traded freely between members. Different member cards are issued for various milestones and events on the website.
00: are Prejoin member cards.
2.0: are Anniversary member cards, given for participating in the Anniversary Event.
01: are Regular member cards, all members receive one of these when they sign up.
02: are Pairing member cards, available when a member has mastered 2 decks they want to pair up.
03: are First Mastery member cards, available when a member is the first to master a deck.
04: are Series member cards, available when a member has mastered 2 character decks and either a puzzle or special deck from the same series.
Photographs levels are based on card count, with every 100 cards collected after level 10 rewarding the player with 2 points.
01: 000 - 100 Cards, 0 Points
02: 101 - 200 Cards, 3 Points
03: 201 - 300 Cards, 6 Points
04: 301 - 400 Cards, 9 Points
05: 401 - 500 Cards, 12 Points
06: 501 - 600 Cards, 15 Points
07: 601 - 700 Cards, 18 Points
08: 701 - 800 Cards, 21 Points
09: 801 - 900 Cards, 24 Points
10: 901 - 1000 Cards, 27 Points
When a player has collected all 15 cards in a deck, they obtain the mastery badge. Mastered cards cannot be traded off.
Milestones are achievements earned by trading, mastering decks and participating in various games, activities and events around the TCG.
Players could adopt characters and earn benefits that help them earn more cards. Each benefit required a certain number of points.
Community content is available under
CC-BY-SA
unless otherwise noted.