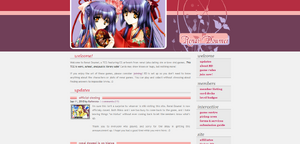 Renai Doumei is a TCG featuring CG artwork from renai (aka dating sim or love sim) games. The TCG was originally opened by
Sepia
and later adopted by
Rahenna
. The site closed September 2011.
Site Information
Edit
Owner: Rahenna
Category: Video Games
Lifetime: 2003; 2007; 2009 - 2011
Grand Opening: 2003
Closed: September 11, 2011
Current Staff
Edit
Former Staff
Edit
Background
Edit
Renai Doumei was first created by Sepia in 2003 and closed after one year. The TCG re-opened February 2007. The TCG was adopted by Rahenna on July 19, 2007 but closed again November 2007.
Eventually in 2009 Rahenna opened Renai Doumei yet again with a new co-owner, Rikka. The site stayed open until it went on hiatus May 15, 2010. The site closed again September 11, 2011.
All cards on Renai Doumei are worth 1 and feature decks for series and artists. The series are separated by the gender pairings.
Member Cards
Edit
Member cards are worth 1 and may be traded freely between members. Member cards can not be mastered.
Levels are based on card count and there are 10 levels total. The first five uses names of figure skating jumps, and the next five are the competitions one goes through to become an Olympic medalist.
Loop: 00-75
Lutz: 76-150
Salchow: 150-250
Flip: 251-350
Axel: 351-500
Regionals: 501-650
Sectionals: 651-850
Nationals: 851-1050
Worlds: 1051-1300
Olympics: 1301+
Milestones
Edit
Players could continue to receive rewards for collecting large amounts of cards with milestones. The milestones were reached at the following card amounts:
1600 cards
2000 cards
2500 cards
3000 cards
3500 cards
Mastering Decks
Edit
When a player has collected all 20 cards in a deck, they obtain the mastery badge. Mastered cards cannot be traded off.
Coupons could be exchanged for choice cards. There is one choice card for each set category, and an additional coupon that lets a player pick any card, regardless of what set type it is.
Layout Gallery
Edit
Community content is available under
CC-BY-SA
unless otherwise noted.