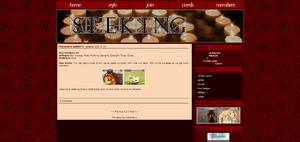 Seeking
is a tarot-based TCG by
RedRarebit
.
Site Information
Edit
Owner: RedRarebit
Category: Mythology
Lifetime: 2013
Prejoin: July 14, 2013
Seeking's decks revolve around three major themes: Tarot Cards, the Western Zodiac, and Miscellaneous magical items and themes. Although Western Zodiac cards can be collected at any time, the decks can only be mastered during that sign's one month in the yearly cycle.
Member Cards
Edit
Member cards are worth 0 and may be traded freely between members.
Levels are based on how many decks a player has mastered.
Level 1: 06
Level 2: 12
Level 3: 18
Level 4: 24
Level 5: 30
Level 6: 36
Level 7: 42
Level 8: 48
Level 9: 54
Level 10: 60
Mastering Decks
Edit
When a player has collected all 15 cards in a deck, they obtain the mastery badge. Mastered cards cannot be traded off.
Layout Gallery
Edit
Community content is available under
CC-BY-SA
unless otherwise noted.