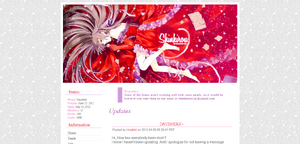 Shinkirou
is an anime, manga and seiyuu TCG that recently expanded to include live action adaptations into movie and television dramas.
On April 9, 2013, Imadoki was considering closing due to lack of interest from the members. It has not been updated since then.
Site Information
Edit
All decks are worth 1 and feature male and female characters, series, pets, seiyuu, live action adaptations, and member created themed decks.
Member Cards
Edit
Member cards are worth 0 and may be traded freely between members. For every 15 member cards collected a player may claim a mini mastery.
Levels are based on card worth with 10 levels total.
Volume One: 000 - 150
Volume Two: 151 - 350
Volume Three: 351 - 550
Volume Four: 551 - 750
Volume Five: 751 - 950
Volume Six: 951 - 1,150
Volume Seven: 1,151 - 1,350
Volume Eight: 1,351 - 1,550
Volume Nine: 1,551 - 1,750
Volume Ten: 1,751 - 1,950
Mastering Decks
Edit
When a player has collected all 15 cards in a deck, they obtain the mastery badge. Mastered cards cannot be traded off.
Players may earn two types of currency from games.
Coupons earn players a choice card.
Cups can be used to purchase card bags and collectibles from the Shinkirou Shop.
Collectibles
Edit
There are various collectible items available in the Shinkirou Shop which can be purchased with cups.
Anime Albums
Edit
Photo Cards
Edit
Landscape
Edit
Pair Master
Edit
Players may purchase a pair master task badge. Completing the tasks earns players a master badge. Pairs chosen may be any coupling from a series.
Event Stamps
Edit
Event Stamps are released on special occasions and are only available for 48 hours, afterwards they are taken down and retired. Each stamp is worth 1 card toward a player's card count, and collecting 15 unique stamps earns the player a reward.
Layout Gallery
Edit
Community content is available under
CC-BY-SA
unless otherwise noted.