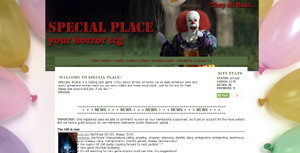 Special Place is a Horror video and game movie TCG by Nyaasu. It has not been updated since November 2013.
Special Place began as a TCG dedicated to Japanese survival horror video game franchise Silent Hill. In 2011 due to lack of interest Special Place expanded to include other survival horror game series.
On January 28, 2012 Nyaasu closed Special Place to revamp the entire TCG. The website opened it's doors again April 1, 2012 with a whole new template.
The TCG expanded once again on September 2, 2012 to include horror movies.
All decks are worth 1.
Member cards are worth 0 and may be traded freely between members. For every 15 member cards collected a player may claim a mini mastery.
Levels are based on card worth with 15 levels total.
One: 001-100
Two: 101-200
Three: 201-300
Four: 301-400
Five: 401-500
Six: 501-600
Seven: 601-700
Eight: 701-800
Nine: 801-900
Ten: 901-1000
Eleven: 1001-1100
Twelve: 1101-1200
Thirteen: 1201-1300
Fourteen: 1301-1400
Fifteen: 1401-1500
When a player has collected all 12 cards in a deck, they obtain the mastery badge. Mastered cards cannot be traded off.
When the cards were revamped the master badges were revamped as well.
Coupons earn players a choice card.
Before the change Special Place had two forms of currency: ammo and a choice coupon.
Community content is available under
CC-BY-SA
unless otherwise noted.