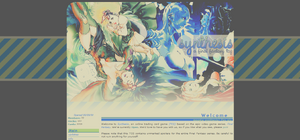 Synthesis
is a Final Fantasy TCG owned by
Smam
. It was created by
Tyna
and Smam. It is a reboot of Tyna's
Endless
.
Site Information
Edit
Synthesis has several types of cards: game, character, scene, puzzle and special cards.
Normal Cards
Edit
Special Cards
Edit
Special cards are worth 2.
Member Cards
Edit
Mastering Decks
Edit
The primary currency in Synthesis is gil.
Stamp Cards
Edit
Combo Mastery
Edit
License Boards, Skills, Equipment
Edit
Players can earn skills and equipment using license boards.
Garment Grid
Edit
Members were able to level a chocobo and take it on adventures and quests.
Community content is available under
CC-BY-SA
unless otherwise noted.