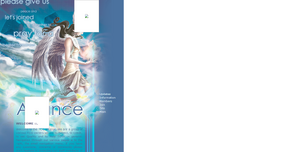 "We are a group of various TCG owners set out to Protect, to Credit, to set Quality and to Help TCGs in general."
The TCG Alliance was an group of various TCG Owners that set rules and policed the TCG community. One of the major goals of the Alliance was to make sure that owners were given proper credit for their contributions to the TCG Community as well as mentor newer TCG Owners.
Alliance Members
Edit
Volunteer Police
Edit
The Volunteer Police were a small group of Silver Senshi members who, for a while, helped the main alliance with checking TCGs for proper credit on game ideas as well as stolen card templates. Each member was assigned a list of TCGs and would report back to the main Alliance a list of offenders to handle as they saw fit.
Sister Program
Edit
The Sister Program was a way for senior TCG owners to mentor new TCG owners. A new owner could apply and were assigned a Big Sister. Little Sisters that complete the Sister Program would become full fledged members of the TCG Alliance.
Black Listing
Edit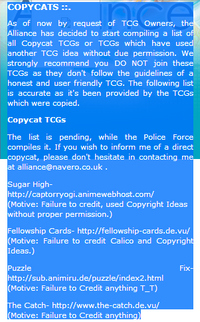 The TCG Alliance was controversial because of how offenders were handled. TCG Owners that were considered thieves, whether it be because they stole game ideas, templates, images, etc. would be sent a warning email with a request to post credit. TCG Owners that refused or claimed that they came up with these ideas themselves tended to end up on black lists. The TCG Alliance is perhaps one of the first and very few websites to participate in this practice publicly.
The policing and other issues were an unfortunate side effect of the rapidly expanding TCG Community, with older TCG Owners scrambling to protect the creations that they worked hard on.
Community content is available under
CC-BY-SA
unless otherwise noted.