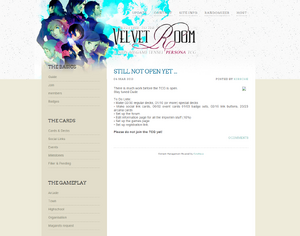 Velvet Room is a TCG dedicated to the Shin Megami Tensei: Persona video game series. The TCG is run by Kirsche .
Site Information
Edit
Owner: Kirsche
Category: Shin Megami Tensei: Persona, Video Games
Lifetime: 2013
There are 5 types of Cards on Velvet Room: Regular, Special, Social Link, Arcana and Event.
Regular cards always have 15 cards in the deck and are worth 1.
Some of the special decks have a quest to fullfill before you can collect them, or the are a quest themself for collecting a certain deck. Special cards are unnumbered and worth 2.
Social Link
Edit
Social Links Cards like Membercard Sets. You gain them for trading with other Members. You can only trade Social Link Cards from the same number, are worth 1.
Arcana Cards
Edit
Arcana Cards are like Achievements. Each Card has it's own special effect.
Event Cards
Edit
Event Cards can you only earn by Events. They are single cards, can't traded with other users.
Levels are based off of card count and small tasks. Once hitting a certain level you could choose to join an organization.
01 (Slash): 001 - 100
02 (Strike): 101 - 250
03 (Pierce): 251 - 500
04 (Fire): 501 - 1000 + Mastered already 4 Decks (option to join Organization)
05 (Ice): 1001 - 1500 + Fullfield Magarets Quest Number X
06 (Electro): 1501 - 2000 + Have 6 or more Arcana Cards
07 (Wind): 2000 - 2500 + Mastered 10 Decks
08 (Light): 2501 - 3000 + Have practiced by 5 Contest/Events
09 (Dark): 3001 - 4000 + Have 12 Social Links
10 (Almighty): 4001 - 6000 + Have all Arcana Cards
Mastering Decks
Edit
When a player has collected all the cards in a deck, they obtain the mastery badge. Mastered cards cannot be traded off.
The currency at Velvet Room is dolls and coupons. Dolls can only be earned through select activities and can be spent at Theodores shop. Coupons could be redeemed at Teddie's Inventory.
Layout Gallery
Edit
Community content is available under
CC-BY-SA
unless otherwise noted.