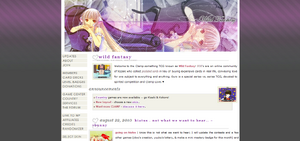 Wild Fantasy
is a CLAMP TCG by
Vbunny
, featuring primarily CLAMP anime but some promotional manga art as well. The game also featured a prominent team battle system as part of the experience, where members would choose a country to join when they joined the TCG.
Site Information
Edit
Wild Fantasy featured eight types of cards in circulation.
Character - worth 1
Scenes - worth 1
Openings - worth 1
Puzzle - worth 1
Event - worth 2
Trade - worth 2
Illustrated - worth 2
Member - worth 1
Member Cards
Edit
Wild Fantasy featured a complex level system, based collective card worth and how many trade cards or masteries a player had. Trade cards were earned for every 25 trades a player made.
Rival

: 0-109 card worth, 0 trade cards or 0 deck masteries
Friends: 110-250 card worth, 1 trade card or 1 deck mastery
Crush: 251-449 card worth, 2 trade cards or 3 deck masteries
Enchanted: 450-850 card worth, 3 trade cards or 4 deck masteries
Valentine:

851-1150 card worth, 5 trade cards or 7 deck masteries
Sweetheart: 1151-1499 card worth, 8 trade cards or 10 deck masteries
Amorous: 1500-2000 card worth, 10 trade cards or 15 deck masteries
Beloved: 2001-2600 card worth, 15 trade cards or 20 deck masteries
True Love: 2601-3200 card worth, 17 trade cards or 25 deck masteries
Soul Mate: 3201-4000 card worth, 20 trade cards or 30 deck masteries
After a player reached the Soul Mate level, per every additional 1000 card worth and 5 additional trade cards or 5 additional deck masteries, they added a +1 to their level title (Soul Mate +1, +2, etc.).
Level Badge Gallery
Edit
Country Games
Edit
Country games were an original, in-depth team-based competition system unique to Wild Fantasy. At the time each member joined, they would pick a series of allegiance from the list:
Clow: Tsubasa Reservoir Chronicle
Tomoeda: Card Captor Sakura
Piffle: Chobits
Cephiro: Magic Knight Rayearth
Every two months, the teams would be regrouped in a new way, sometimes into alliances (i.e., Cephiro and Piffle against Clow and Tomoeda) or sometimes an individual free-for-all. Players would help their teams compete by earning and submitting currency, which was either Escudo or Feathers. Team members could earn currency by completing tasks like mastering a deck or submitting graphics, or by playing mini-games on the forum.
Team also submitted currency toward ability boards, which unlocked powerful perks for all team members to use (i.e., one choice regular card per month).
Wild Fantasy was the first TCG to feature event decks for affiliates.
Wild Fantasy was the first TCG to use the Episode Math game.
Layout Gallery
Edit
Community content is available under
CC-BY-SA
unless otherwise noted.