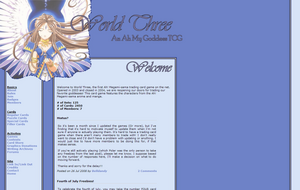 World Three
is the first Ah! My Goddess TCG, run by
Kajouka
.
Site Information
Edit
Special Cards
Edit
Rat Ninja: 0-50 Cards
Genie: 50-100 Cards
Demon Second Class: 100-150 Cards; Master Two Normal Sets
Demon First Class: 150-200 Cards; Master Four Normal Sets
Mortal: 200-250 Cards; Master One Special Set
Fairy: 250-300 Cards; Master Seven Total Sets
Tree Spirit: 300-375 Cards; Master Ten Total Sets, including one puzzle set
Angel: 375-450 Cards; Master Two Special Sets
Goddess Third Class: 450-575 Cards; Master fifteen Total Sets
Goddess Second Class: 575-700 Cards; Master seventeen Total Sets
Goddess First Class: 700-800 Cards; Master twenty total sets, including one special set worth three.
Once players have reached 801 cards, they will receive 3 cards of choice for every 100 cards and three additional mastered sets (any type).
Mastering Decks
Edit
When players have collected all cards in a deck, they have mastered it. Mastered decks cannot be traded out.
World Three uses coins and coupons as currency.
Community content is available under
CC-BY-SA
unless otherwise noted.